---
Our departure time is now measured in hours and not days, weeks, or months. A folding table holds everything that I will depend on for up to ten days along a hundred mile stretch of remote trail in Maine. While I am aware that the adventure is about to begin each hour feels slightly different than the last. Anticipation turns to apprehension and then back again. The most reassurance I can provide myself is that my planning has been sound and that I am as prepared as I can be.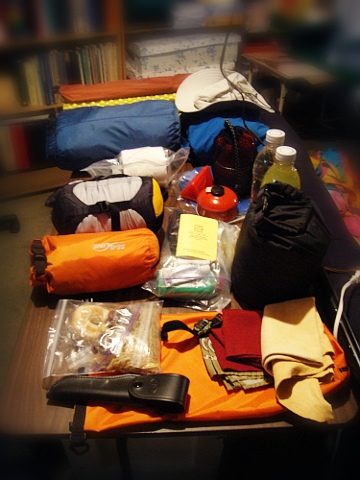 Featured in the above image is everything (exceptions include shoes, clothes, rain jacket, headlamp, firestick, compass, and the head lamp) that I will take with me into the 100 mile wilderness in Maine. On the far end is my Z-lite and tent poles. The large blue 10L dry bag is food for 9 days which is by far the heaviest item in my pack. My hat and Arc'teryx Atom LT have not been compressed yet, but they will snugly fit in the remaining dry sack I have. In front of the food bag is my (ever so important) toilet paper and hand sanitizer, along with my cookware. The compression sack contains all of my clothes, and the dry bag in front of it contains both of my liners. The large black dry sack is the MSR Hubba tent (this thing can be compressed quite a bit). The external plastic bags contain food for the first day (which I could not fit into the food bag) along with everything else. Closest is a $9 watch I picked up to tell the time, a chamois to use for drying myself, a bandana and beanie, my Fallkniven F1 knife, and the unused dry bag which will receive the rest of the gear. I'm quite happy about the fact that all of my gear should be protected in a dry bag of some sort since I expect it to be wet often.
My total pack weight will come at under 45lbs which I am very happy with. I had estimated my food to weigh in at approximately 20lbs and it turned out to be closer to 16lbs. This change, coupled with my current choice to leave behind a down sleeping bag in favor of a cotton and synthetic liner has caused my total pack weight to now be approximately 43.5lbs. At the moment, my intention is to take no sleeping bag and to use my MSR pocket rocket to cook with. Both of these decisions are not final, and I intend to make more informed decisions the day before we start our hike (Tuesday). The forecast currently has most nights in the mid to high 50's (F) which I simply do not need the down sleeping bag for. If the forecast reveals low 50's and possibly 40's overnight, I would be inclined to trade in one liner for the sleeping bag.
We're well-prepared not only for the trip but also for the drive up. My older sister was kind enough to bake us a batch of cookies which we were instructed to consume prior to beginning the hike. I'm sure we'll have no problem following that order. I also was treated to a delicious Indian curry dish tonight that my mother cooked. My father has been kind enough to offer up gear for sacrifice and a more reasonable car to drive. We both appreciate all of these gestures and support.
comments powered by

Disqus